FOR THOSE WHO WANT TO ACTUALLY

PLAY

VOLLEYBALL
BEACH SPIKERS



Written By Shaun McCracken

I should have reviewed this game over a month ago, since I've had the game for quite awhile now. Funny little side note, the day I received this game, it was raining. Kind of odd playing a beach volleyball game in the middle of a spring shower, but that's the convinence of Beach Spikers. It's an accessible volleyball game that can be enjoyed at any time, and is great to play with whoever is around. But that's really all there is to Beach Spikers, it's volleyball and nothing else, unlike Dead Or Alive Xtreme Beach Volleyball. But honestly, that's not a bad thing, since Beach Spikers never loses it's core focus.

Beach Spikers is basically arcade beach volleyball. It's not meant to be a complicated simulation, it's just meant to be fun. The control set up reflects the arcade nature. You use A for a normal bump, B for a weak bump and A+B or X for a volley to the other side. You can also spike the ball when the time is right (a meter will show), as well as block the opponents attacks. While the control and game play design is fairly simple, you will need some skill to take on the CPU or even your friends. Luckily, Beach Spikers gives you a tutorial on how to play the game, everything from serving to spiking, they'll show you how it's done. Once you learn the ropes, you can go for the Arcade mode, the VS. mode or the World Tour mode. For single players, the arcade mode can give you some brief volleyball satisfaction, while the World Tour is more in depth in terms of team development.

While you may get the hang of how the game is played, your computer partner seems like it has no idea in hell what is going on in the start of the World Tour. She will miss at least half of the shots, even obvious ones. I'm not sure if it's because of the teamwork percentage or player statistics, but it's very hard to win with a dumb ass on your side. I'm an average player, but even I'm better than my CPU partner. It's different in the arcade mod, since the player stats are almost even.

Now, for the visuals. Not bad, I must say. Perhaps some of the best modeled and almost realistic looking characters since the Resident Evil remake. While the models lack the "jiggle" in a certain area, they still look and move great. It's apparent that Sega wanted to focus more on a better volleyball experience rather than Tecmo's "sex sells" approach, and I can't see a problem with that. The sand modeling is excellent, it reacts to pressure just as it should. Wherever you walk or the ball falls, an indentation in the sand will appear. It must take a lot of polygons just to fill up that area alone. The arenas are modeled pretty well, especially with the Nissan stage, having a nicely (and distracting) modeled 350Z. I think Sega played on one of my weaknesses to their advantage ;). Finally, Beach Spikers has some fantastic lighting effects. Those who only thing great lighting can be done on the X-Box need to give Beach Spikers a look. I especially like the lighting on the night stages, where the shadows are cast perfectly. Oh, and you have to love the racy, touchy-feely embraces after each match.

The audio portion of Beach Spikers suffers a bit, and really it's understandable why: the game's made by Sega. Sega isn't really known for hit music. Just look at Super Monkey Ball or some of the music in Sonic Adventure. The music is basically mediocre rock, and is really just background filler. The announcer is an annoying man that really has to shut up at all costs. But, it is entertaining to her the girls scream and yell "Go, go, go!".

Beach Spikers may lack all of the sex-soaked content of DOA Volleyball, but it makes the game that much more accessible to all audiences (hence the E-rating). While it is just volleyball and nothing else, Beach Spikers is a great game for the summer, or any time of the year. It fills an absent niche nicely, and does so with some sexy style.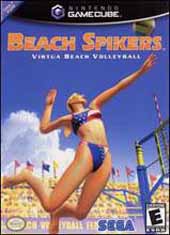 Published By :
SEGA
Developed By:
AM2

Year Published :
2002

Players :
1-4

ESRB Rating:
EVERYONE


OVERALL SCORE
8.1
| | |
| --- | --- |
| VISUALS | 8.8 |
| AUDIO | 7.5 |
| GAMEPLAY | 8.1 |
| REPLAY VALUE | 7.7 |
| INNOVATION | 8.1 |
Shallow as a single player game, but great with friends, Beach Spikers actually sticks with sport of volleyball instead of playing dress-up with the characters.

DOA Xtreme Volleyball

Outlaw Volleyball


Well, this is basically the best volleyball game to be released.