THE TITLE DOESN'T LIE


BLOODRAYNE



Written By Shaun McCracken

Majesco never really stood out as a really good game publisher in the past. They started out as a re distributor of SNES, Genesis and Game Boy games in the mid 90's. Eventually, the started publishing games such as Rainbow Six for the Dreamcast. Further along Majesco's lifespan, they became a more formidable company, and Bloodrayne may be one of the best games they have published. Though not the best game around, Bloodrayne is suprisngly entertaining in it's own right, which is one thing that counts in a video game.

Bloodrayne is a game that has a title that can best be described as "truth in labeling". The amounts of blood in this game is pretty plentiful. You pretty much slice, dice, shoot, blow up and even suck the blood of your enemies. Of course, this is just a video game, but it's still pretty graphic in terms of bloodshed. To compliment the pervasive violence is pervasive language. While not exactly Die Hard Vendetta, there's still some F-words to be heard. And it's funny too, in an accidental kind of way. The voice acting is kind of low key, especially from the person who voices Bloodrayne. When you hear her say "What the f**k?", you can't help but to laugh because of the delivery. Everything in Bloodrayne is not taken too seriously, and tends to have a tounge-in-cheek attitude at times. Perhaps this is one reason why I found this game enjoyable.

The story behind this game is about someone from the pre-Nazi regime (they weren't as much of a prevalent force in Germany at the time this game takes place) want this artifact that enables him to rule the world. But, you as Bloodrayne must stop this man from taking over, as a part of this vampire militant group of some sort. For vampires, they seem pretty nice to normal people, as you'll see during the Louisiana stage. When you first start out, you fight against strange mutations in the swamps of Louisiana in the earlier 20th century. I can't remember if this had to do with the Nazi guy, but why else would you be there? And if you haven't realized by now, I can't tell the plot of a game well. Check the game's website or visit an online retailer for more info.

The game design seems rather basic. In a way, it's kind of like a mix of Syphon Filter, Nightmare Creatures and elements pretty much ripped off from the Matrix. But then there are a couple of elements that make this game seem like it's own. First, there's the blood sucking. I'm not sure how often this was done before, but in the case of this game, it's beneficial. Sucking blood from enemies can replenish your health, as well as finish them off. There's also another function called the "Aural Sense", in which the world turns blue, and your objective as well as enemies are shaded in a different color. Sometimes it's helpful, but it doesn't always point you out in the right direction. You pretty much go through the stages, trying to complete a stated objective or just try to find your way to the other side. And it does prove to be challenging, but like I said, everything felt so standard about the game play design.

Keeping up with the theme of being "standard" is the graphics. Not highly impressive, but not awful. The textures are adequate, the player models are fine, but the frame rate is inconsistent at times. The indoor stages have a better frame rate than the outdoor ones, and I think the reason why the frame rate goes a little haywire at times is because of a lot of effects. The swamps stages have a lot of fog, and there is some decent lighting effects. But for a GCN game, I think the game could have functioned smoothly without frame rate hiccups. It doesn't hinder the game play, but it is noticeable.

The sound is fairly good. The voice acting is kind of funny, whether it was intentional or not. Also, the voice overs were played at a rather low volume. The sound effects are pretty basic, with the hacking and slashing sounds, as well as gunfire and explosions. There is a little popping in the sound, but it didn't occur too often.

Overall, Bloodrayne, while bowing down to many of it's standard design issues, is still a pretty fun game. At times, the action seems mindless, but hacking Nazis are pretty fun. It's something you weren't able to do in the Medal Of Honor games. Perhaps if there was a little more innovation infused into the design, the game would be even better. As it is, it won't throw Metroid Prime or Halo off the action throne, but I did find it more entertaining than Enter The Matrix.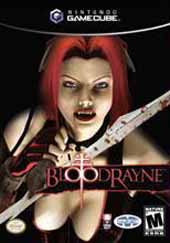 Published By :
MAJESCO
Developed By:
TERMINAL REALITY

Year Published :
2002

Players :
1

ESRB Rating:
MATURE [17+]


OVERALL SCORE
7.5
| | |
| --- | --- |
| VISUALS | 7.4 |
| AUDIO | 7.5 |
| GAMEPLAY | 7.9 |
| REPLAY VALUE | 7.5 |
| INNOVATION | 7.4 |

Moderately fun until it becomes fairly repetitive.


Blade II


Buffy The Vampire Slayer

Buffy The Vampire Slayer: Chaos Bleeds